Matt Williams endorses DR Strings.
"I have actually always used DR strings exclusively since I bought my first set of Pure Blues. Now I use the coated Black Beauties, and Cool Blues on electric guitars, the Sunbeam and Dragon Skin Phosphor Bronze strings on my acoustics.  I also love their RARE Mandolin strings on my mandolins and Lo-Riders on my electric bass.  Every set of strings is well-balanced with uniform feel.  Also, the tone lasts for a really long time and is consistent from set to set." - MW
To find out more about DR Strings and get "The Handmade Strings" under your fingers, visit
www.DRStrings.com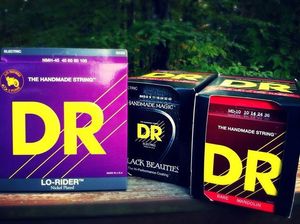 Custom Build / Thin The Herd Guitars
Matt Williams endorses Thin The Herd Guitars.
Thin The Herd is a small guitar shop specializing in affordable custom guitars for those who appreciate them as art as well as instruments. It is our mission to provide an instrument that surpasses expectations in beauty and quality, at a price that working musicians can easily afford.  
"I absolutely LOVE my Spalted Maple HSS Strat-Style guitar!  I also find the tele-hybrid w/ synchronized tremolo and dual P-90's to be one of the smoothest playing guitars.  These are my favorite recording and performing guitars!!!  I'll be continuing my professional video demonstrations of their instruments with a new video soon.  For now, here is my latest demo of their Custom Build Affordable Acoustic...
Special THANK YOU to Vaughan Shannon at Thin The Herd!!!
Check out their inventory and Custom Build options at 
www.ThinTheHerdGuitars.com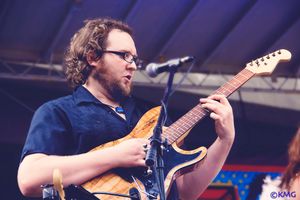 One might say that the innovative luthier, Iras Makowski, builds his electric instruments out of acrylic and light.  He features his artistic designs with LED lighting so they look as good as they sound.  Matt plays a custom VY6 six-string violin and recently collaborated with Equester on a new signature 7-string violin! The instrument (from highest open string to lowest string) is tuned E, A, D, G, C, F, and Bb which extends the traditional violin through the cello range and below. To accommodate the full range, Iras has equipped the violin with two custom built piezo pickups.    
For more information on Equester Instruments, visit  
www.Equester.cba.pl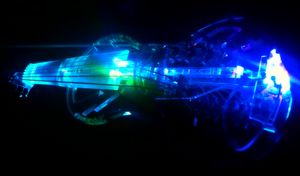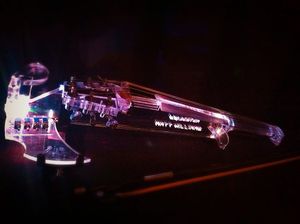 Saturnworks Handcrafted Pedals
Matt Williams endorses Saturnworks Handcrafted Pedals.  
"Bryan Wallis, creator of Saturnworks, makes quality pedals by hand.  His tap-tempo and expression control knob pedals allow me to get the most functionality out of my rig.  I use a tap-tempo with my delay, and several expression knobs with my Moog FreqBox. It's nice NOT having to bend down all the time to make adjustments to my effects.  I just keep playing and control things like my envelop amount, and efx mix levels with my feet.  Bryan also created a custom switcher for me so that I can easily switch instruments.  My "Dream Switcher" switches between two inputs (with volume controls on both channels), sends the signal through a true bypass efx loop, then switches between two outputs.  It also features a tuner/mute out.  This allows me to match my instrument levels BEFORE running through my effects and then tailor each channel of my Oldfield tube amp to the corresponding instrument.  I can also use the efx loop to engage several effects at once... Boom!"  - MW
For more information on how to get the most out of your market pedals and launch your tone into the beyond, visit 
Saturnworks.blogspot.com